Bringing Neapolitan tradition to new trends in pizza
If there are two things that people generally don't associate with each other, they are "pizza" and "gluten-free". But the team at Oggi Foods is changing that.
With more and more people either suffering from gluten sensitivities or just trying to adopt healthier eating habits, gluten-free food options have exploded in recent years, and that has included Italian staples like pizza.
Oggi Foods is revolutionizing the gluten-free pizza trend by manufacturing and selling frozen pizzas and pizza crusts. They specialize in gluten-free and plant-based ingredients like cauliflower, beetroot and spinach that people can enjoy in the comfort of their own homes. What makes their pies stand out from other gluten-free options however, is their focus on maintaining traditional Neapolitan pizza standards.
"When we started out, we noticed that most gluten-free pizzas lacked the authentic taste of a traditional Neapolitan pizza," says co-owner Joe Turturici, Oggi Foods president and CEO. "They tasted more like a cracker than real pizza."

"We believed that just because you're eating gluten-free pizza, that doesn't mean you have to sacrifice on taste," says co-founder Stefano Cataldo. "So we worked hard to blend healthy options with traditional taste."
The result is authentic pizza that uses the founders' traditional family recipes with gluten-free and plant-based flours. Each pizza crust dough is made without GMOs, gluten, eggs or dairy. And true to the founders' Southern Italian family heritage (Cataldo is from Avellino, near Naples and Turturici is Sicilian), the crusts are also hand stretched and stone baked, then topped with gourmet ingredients, just like in a traditional Neapolitan pizzeria.
And the Oggi Foods team knows a lot about pizza. Both Turturici and Cataldo, as well as their other partners, Stefano's father Angelo and a fourth partner, Antonio Merulla, come from a long line of pizzaiolos and the team often travelled to Naples while researching their products before launching the company. 
"We got inspired by some of the things we saw while we were in Italy," says Turturici. "They were making amazing gluten-free
options that were just as authentic as the traditional pizzas. So we knew that we didn't have to sacrifice quality or taste in our recipes."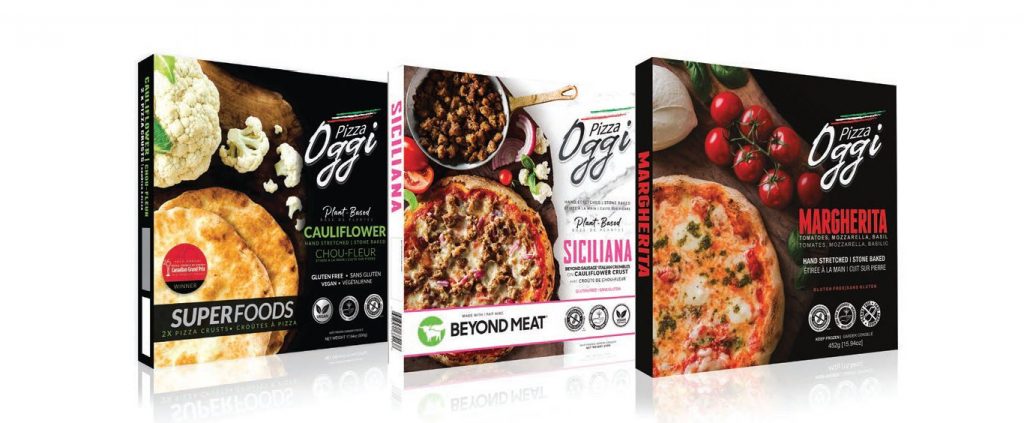 And although Oggi Foods has achieved authentic Neapolitan flavour and texture in their pizzas, they continue to evolve their offerings to cater to people's ever-changing tastes. They recently partnered with Beyond Meat and Good Planet Foods to create a 100% plant-based, certified gluten-free pizza featuring Beyond Italian Sausage and other plant-based topping options. 
While the team initially found it difficult to break into the highly competitive "better for you" food space, as they call it, the quality of their product, as well as some important recognition from the industry helped propel them to commercial success. They were the recipients of both the Best Frozen Product and Best New Product at the Canadian Retail Council's Canadian Grand Prix New Product Awards, as well as an innovation award for their cauliflower crust from Sysco in the US. Not bad for a company that has been in business for just six years.
Thanks to that recognition, Oggi Foods pizzas can now be found in most major Canadian chains including IGA, Maxi, Loblaws, Sobeys, Provigo, Real Canadian Superstore, Fortinos and Costco. They are also actively expanding into the US at outlets like Albertsons, Kroger and online at Costco.com. They are also building a US facility to be better able to serve their American clients, while still maintaining their Canadian operations in St-Leonard, Quebec. They also do private label products for major chains in Canada and supply products to the restaurant and hospitality industry.
And even in this year of challenge for most businesses due to the
COVID-19 pandemic, Oggi Foods has still managed to keep things
running. Their production facility runs 24-hours a day and they employ over 200 people at their warehouse in St-Leonard. 
The team attributes this to an increase in people purchasing frozen food during the crisis and, of course, to the quality of their product.
"If you like the box, you'll buy once, if you like what's inside the box, you're a customer for life,"
So if you're in the market for BETTER FOR YOU authentic-tasting Neapolitan pizza, Oggi Foods has you covered.