CNN – Julia Buckley, CNN • Published 14th February 2021
Editor's Note — Watch new CNN Original Series "Stanley Tucci: Searching for Italy" Sunday at 9 p.m. ET/PT.(CNN)
Stanley Tucci wants to put you straight about Italy. A land where the sun shines, the nonnas smile and every plate of spaghetti bolognese comes showered in parmesan cheese? Scratch that.
"I think in America there are a lot of very specific ideas about what is 'Italian,' and one of the reasons I wanted to do [my new] show is to dispel some of those myths about what Italy is," he tells CNN.
"People imagine it's always sunny and people are playing mandolins and eating pizza and chicken parmigiana — which isn't even an Italian dish."Because my parents were so respectful of their heritage, that cultural identity was really important to me, and still is."For his latest project, the actor is playing himself, as he strives to put the record straight about the country he's descended from on both sides.
Stanley Tucci: Searching for Italy. In onda sulla CNN la serie dedicata alle cucine regionali d'Italia GamberoRosso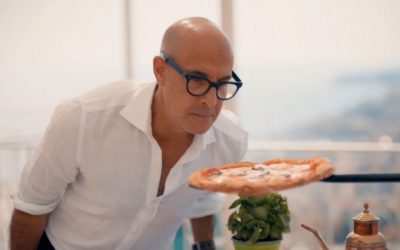 Debutterà il 14 febbraio la serie originale prodotta da Raw TV per CNN che vede Stanley Tucci nei panni del cicerone gastronomico alla scoperta di tradizioni e segreti delle cucine regionali d'Italia. Stanley Tucci: Searching for Italy è un'occasione importante per l'Italia e per la sua storia gastronomica.