by Vittoria Zorfini
Canada and Italy have officially expanded their existing youth mobility agreement, opening the door to longer working holidays between the two countries.
On December 11, 2020, Minister of Immigration, Refugees and Citizenship Marco E.L. Mendicino, and Minister of Foreign Affairs and International Cooperation of the Italian Republic Luigi Di Maio, signed a new bilateral agreement. Moving to Canada is not always simple—there can be challenges, especially for those who want to move perma- nently. Thus far, the working holiday visa—valid for up to one year—has been the most requested work permit. However, for many applicants, this time limit is too short to be able to find a job and settle down permanently. Although many people succeed, just as many go back home.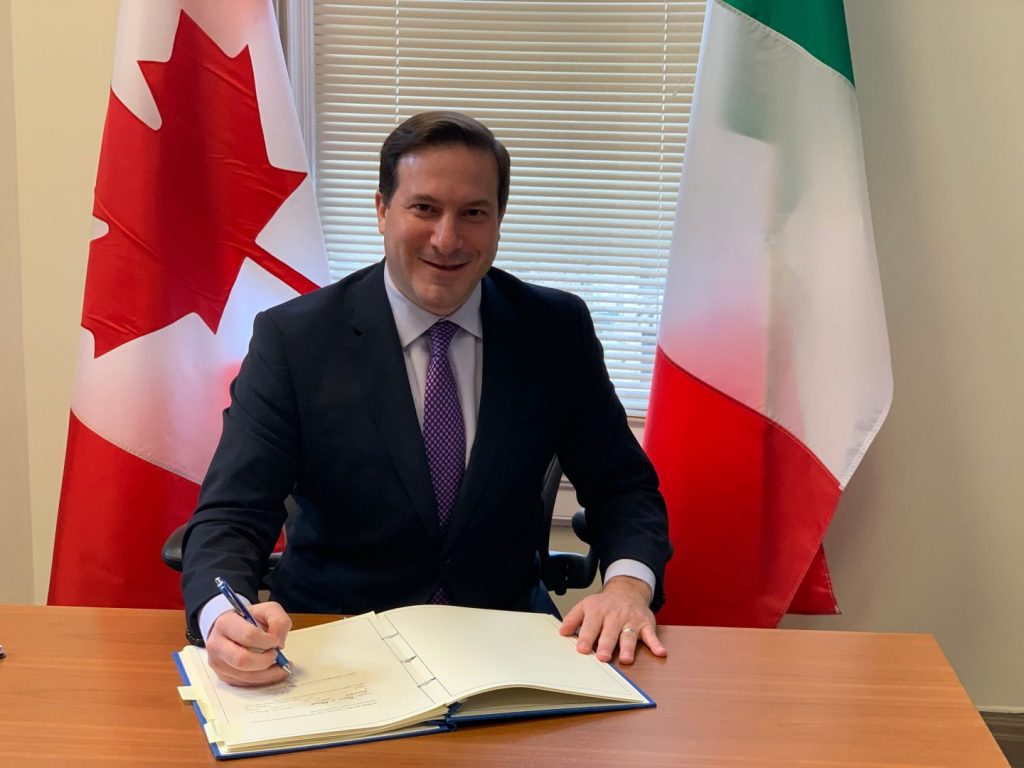 The International Experience Canada (IEC) Youth Mobi- lity program will now facilitate the extension of an applicant's stay in the host country from one to two years. This 12-month extension not only allows an applicant to gain important experience in work and life abroad, but also offers more opportunities to those who decide to stay even after their IEC permit expires. As Mendicino says, it is an important achievement because "the new agreement will provide more opportunities for both Canadian and Italian youth, who will gain experience, new skills and will contribute to the recovery of the economy," helping us overcome the COVID-19 crisis. Mendicino says he is especially proud of this agreement because he comes from an Italian immigrant family and can relate to the stories of those who tried to move to Canada, but had to give up.
Previously, the agreement allowed for a six-month study or work permit, and six months of holiday to explore the beauty of the country. The last six months, however, would usually be- come a race against time trying to find a way to stay, resulting in the visa's expiration and a ticket back home. One of the greatest advantages of this agreement, Mendicino explains, is that it provides a longer window of time for youth to come, develop new skills and possibly find a way to stay. In fact, the IEC not only facilitates international professional development but is also part of a more comprehensive plan.
"We hope that some of the Italians who come to Canada thanks to this agreement will consider staying, becoming permanent residents first and then Canadian citizens, as part of our long- term immigration plan," he notes. The goal is also to attract "the best and most skilled people from all around the world, Italy included, because we are in great need of them" for the economy and to bolster several sectors like the food industry, once it will be possible to do so.
The Honorable Francesca LaMarca, elected deputy in North and Central America with the Democratic Party, explains the IEC in detail. "The duration of the stay abroad is extended to a second 12-month cycle (12+12), as opposed to the [single 12-month cycle offered by the] 2006 protocol agreement. The working holiday visa permit is now complemented by the Young Professionals program, for those who already have a post- secondary degree and want to gain work experience in the host country, and the International Co-op program, for students who wish to experience a curricular internship."
Who are the eligible candidates? "For the working holiday visa, the eligible candidates remain the same. Eligible candidates for the Young Professionals program are those who already have a post- secondary degree and a job offer. Students registered at a post- secondary institution who want to get a professional internship experience can apply for the International Co-ops permit." The age range is still 18 to 35 and, although the available spots are cur- rently capped at 1,000, the number could increase under the new agreement. However, those interested need to wait until the IEC is presented to Parliament to apply and for more details. If there are no objections, 2021 could give many young people in Canada and Italy an opportunity for a great adventure.
Making the move requires much patience and determination. While it is an incredible experience, one must be aware of what to expect. When it all works out, the rewards can be great, according to those who have taken advantage of such programs in the past. "I came to Canada in 2015 with a working holiday visa, which had a 6-month work limitation plus 6 months of holiday," says Giulia Verticchio, journalist at the Cittadino Canadese newspaper in Montreal. "Back then, I would have liked to have this type of agreement. It would have saved me the trouble of trying to find a way to stay in Canada during the last months of my permit. It was not easy at all to find a solution that allowed me to stay. Although, after many obstacles, I eventually succeeded, it was really challenging."
Globetrotter and mother of two Barbara Verdecchia shares the sentiment, "Let's say that it was easier to arrive than to stay. I applied for the working holiday visa and I qualified. In the fall of 2013, I arrived in Canada, where I immediately found a job at a restaurant as an assistant chef. One month later, my boss offered to sponsor me, so I decided to stay. I saw Canada as a great opportunity for my partner and me. Years passed, and we obtained our permanent resident cards in 2017. When I left, I was a student exploring the world, and now I am a happy mother with many vegan recipes to experiment with."
Although COVID-19 has incurred travel restrictions globally, this agreement with Italy will open up new and exciting oppor- tunities for others like Verdecchia and Verticchio for future work and travel once restrictions are lifted.