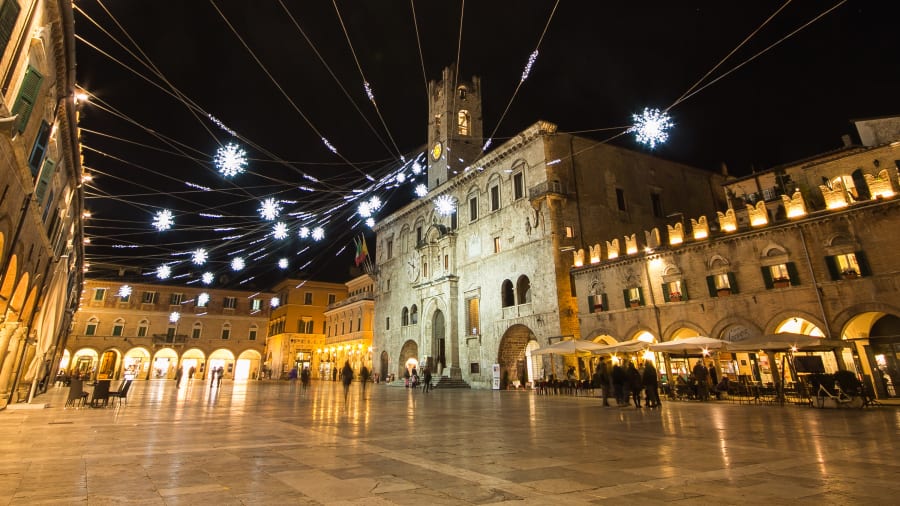 Julia Buckley for (CNN) — Walk round Ascoli Piceno, and in some ways it could be any Italian town. There are two big squares where locals watch the days go by, sit in cafes to people-watch, and do their nightly passeggiata stroll.
There are centuries-old churches and even ancient remains dating back to the Roman period. As in plenty of other Italian towns, the center was constructed in the medieval period. And, just like others, it's been beautifully preserved. But wander round — especially at night — and you'll notice one major difference: Ascoli appears to glow. By day, the buildings and even the paving stones glimmer in the sunlight. And at night they glow in the moonlight, the towers, porticoes and streetlights reflecting perfectly in the flooring, making the city center look like a mirage.
That's all down to the fact that Ascoli's local rock, from which the entire historic center is constructed, is travertine: a precious stone, similar to marble, that gleams bone white in the midday sun, flushes pink with the sunset, and glows under the evening streetlights.
Today, travertine — and Italian travertine in particular — is expensive. You'll find it used in bathrooms and as flooring, rather than being used to make entire houses. But Ascoli's travertine buildings and paving stones were laid long before it became an ultra-precious material. Many of the grand buildings you see today date back to the Roman period.