A dish you will not find on the menu in Italy (but that we love to make at home).
by Gaia Masiero for La Cucina Italiana – If you search for #pastaprimavera on Instagram, you'll find more than 17,000 posts. Glance at a dozen of them, and you'll notice they weren't published by Italians. That's because, quite simply, pasta primavera, or springtime pasta, doesn't exist in Italy.
When the flowers start to blossom, we revel in spring's finest bounty ⁠— peas, asparagus, squash blossoms, leeks and zucchini ⁠— but we rarely serve them together in one dish.
We noticed pasta primavera popping up on menus around the world, and we had to ask, "Why not?" and found ourselves imagining what pasta primavera would be like if it had originated in Italy.
So, here's what we came up with to showcase the season's prime produce, complete with a recipe for egg tagliatelle, an Italian springtime favorite.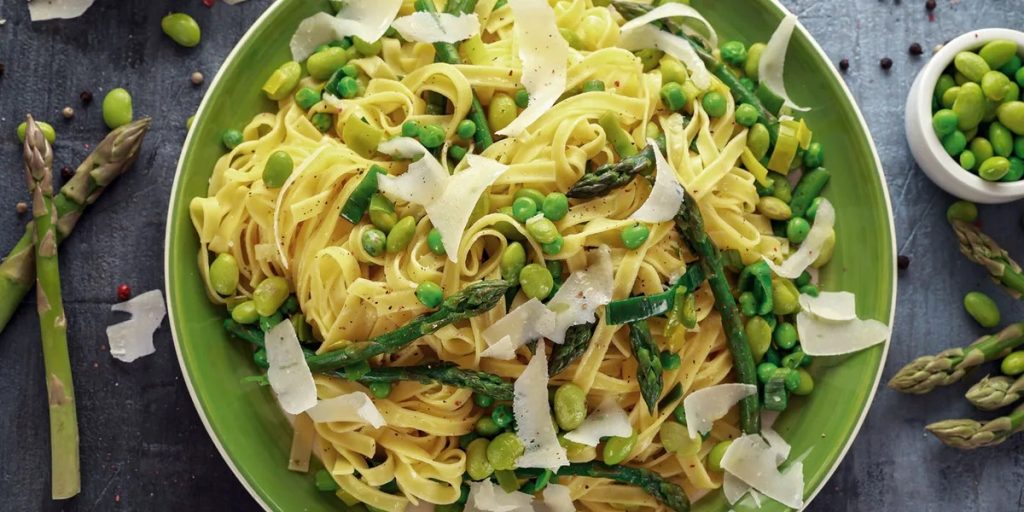 Serves 6
Ingredients
2⅓ cups flour, 11 oz.
Fresh asparagus spears (around), 3/4 cup
shelled peas, 1¼ stick butter,
10 squash blossoms,
3 large eggs,
1 small zucchini,
1 leek,
Ricotta salata cheese,
Salt, Pepper
Prepare the pasta
Sift the flour into a pile on your work surface, make a well in the middle, break the eggs into it and add a pinch of salt. Start by whisking the eggs with a fork, then by mixing the eggs into the flour — first whisk with a fork and then with your hands.
Knead the dough until it is smooth, uniform and elastic, then roll out the dough with a pasta machine and cut it into tagliatelle. (If rolling and cutting the dough by hand, first let it rest, covered with plastic wrap, for at least 1/2 hour).
Save time: buy the fresh tagliatelle pre-made.
Prepare the vegetables
Bring a pot of water to a boil add salt and cook the peas and set a timer for 10 minutes. In the meantime, clean and chop the zucchini into your choice of round slices or ½" cubes. Once the peas have cooked for 10 minutes, add the zucchini to the pot.
After 5 minutes, add the asparagus spears, and let cook for 2 minutes. Use a slotted spoon to remove all the vegetables from the pot and place them in a bowl.
Bring a pot of salted water to a boil. In a sauté pan, soften the leek with butter for 3 minutes, then add the cooked vegetables to the pan along with the squash blossoms and cook for 3-5 minutes.
Cook the tagliatelle in the boiling water for 2 minutes, then drain and add to the pan with the vegetables, sautéing for another minute, gently mixing everything.
Serve with freshly grated pepper and grated ricotta salata to taste.