28jan12:00 pm1:30 pmIT@CA 2021 | Made in Italy Back to the Future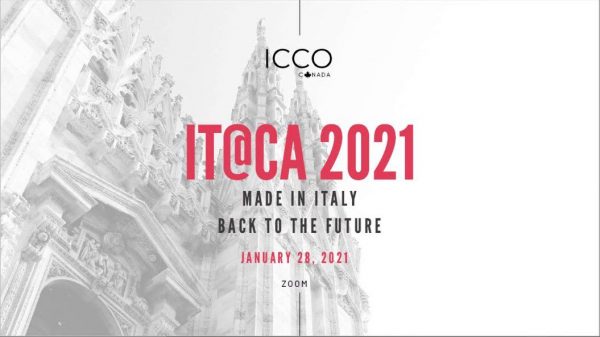 Event Details

The Embassy of Italy in Ottawa, the Consulate General of Italy in Toronto, the Istituto Italiano di Cultura Toronto, the Italian Trade Agency (ICE), the Italian National Tourist Board (ENIT), and the Italian Chamber of Commerce of Ontario (ICCO) present the second annual edition of IT@CA, a free online event featuring four acclaimed and globally renowned guests in conversation with Anna Maria Tremonti, one of Canada's most trusted journalists.

The event provides an insightful opportunity to individuals interested in the cultural exchange between Italy and Canada and the post-COVID-19 expectations.

Made in Italy Back to the Future

Thursday, January 28
12:00PM EST

Via ZOOM

CLICK HERE FOR MORE INFORMATION AND TO REGISTER

To strengthen the relations between Italy and Canada, IT@CA proposes a presentation of great Italian role models and leaders tracking economic developments around the world and a streak of optimism that many are starting to feel after the global pandemic.

Italian creativity is not just art, sculpture, music, and literature. Italian creativity is a unique skill that is applied every day to business, innovation, science, and education.  IT@CA brings together the great talent of Italians, where each of these guests talks about their careers and how to bring a business back after the COVID-19; the values and challenges we will have to put in place. IT@CA shows that Italy of quality and beauty defies the economic crisis.
Time

(Thursday) 12:00 pm - 1:30 pm