07oct(oct 7)9:00 am31dec(dec 31)10:00 pmOpen Sky: Portrait of a Pavilion in Venice by Katerine Giguère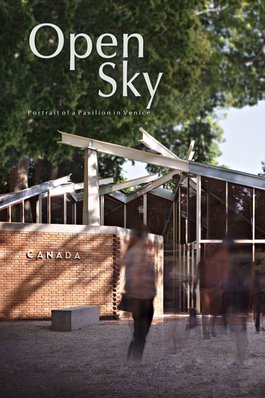 Event Details
Da Mer 7 Ott 2020 a Gio 31 Dic 2020
The documentary by Katerine Giguère, Open Sky: Portrait of a Pavilion in Venice invites you to the famous Venice Biennale to discover the Canadian Pavilion, designed by Milan's renowned Studio BBPR, and restored, together with its surrounding gardens, by the National Gallery of Canada on the occasion of the building's 60th anniversary in 2018.
This elegantly crafted short film, like the pavilion it celebrates, is intimate and made on a human scale. The building, too little known to the Canadian public, is an architectural jewel and an exceptional world showcase for the country and contemporary Canadian artists. This film provides a unique opportunity for viewers to discover its beauty and its history.
Filmmaker Katerine Giguère was both director and cinematographer of the project, and with her warm, sensuous approach, she creates an inviting portrait of the building, one of 29 pavilions in the Venice Biennale Gardens. She skillfully intermingles more than 120 archival images, a dozen interviews with experts in various fields, and recent documentary footage revealing the innovative design of the building, its grace and elegance, and its profound relationship with the natural surroundings. The film is an hommage to a special architectural achievement, bathed in light and open to the sky.
The experts interviewed for the film in Canada and Italy offer accounts of their personal connections with the pavilion and its gardens. Among them are Réjean Legault, professor at the École de design at the Université du Québec à Montréal (UQAM); Karen Colby-Stothart, chief executive officer of the National Gallery of Canada Foundation (2013–2019); Josée Drouin-Brisebois, senior curator of contemporary art at the National Gallery of Canada; Cornelia Hahn Oberlander, landscape architect; Paolo Baratta, president of the Venice Biennale (2008–2020); and Alberico Belgiojoso, architect and heir to the Studio BBPR.
Open Sky: Portrait of a Pavilion in Venice by Katerine Giguère (25 minutes) is produced by André Picard for the NFB in partnership with the National Gallery of Canada and the National Gallery of Canada Foundation. With editing by Annie Leclair and music by Pierre-Philippe Côté and Steven Doman.
The film is available online and free of charge by logging in to the NFB website.  CLICK HERE TO VIEW
Time

October 7 (Wednesday) 9:00 am - December 31 (Thursday) 10:00 pm