The Guardian – Impressive display of sportsmanship from the Italian and Qatari rivals hailed as one of Tokyo 2020's most memorable moments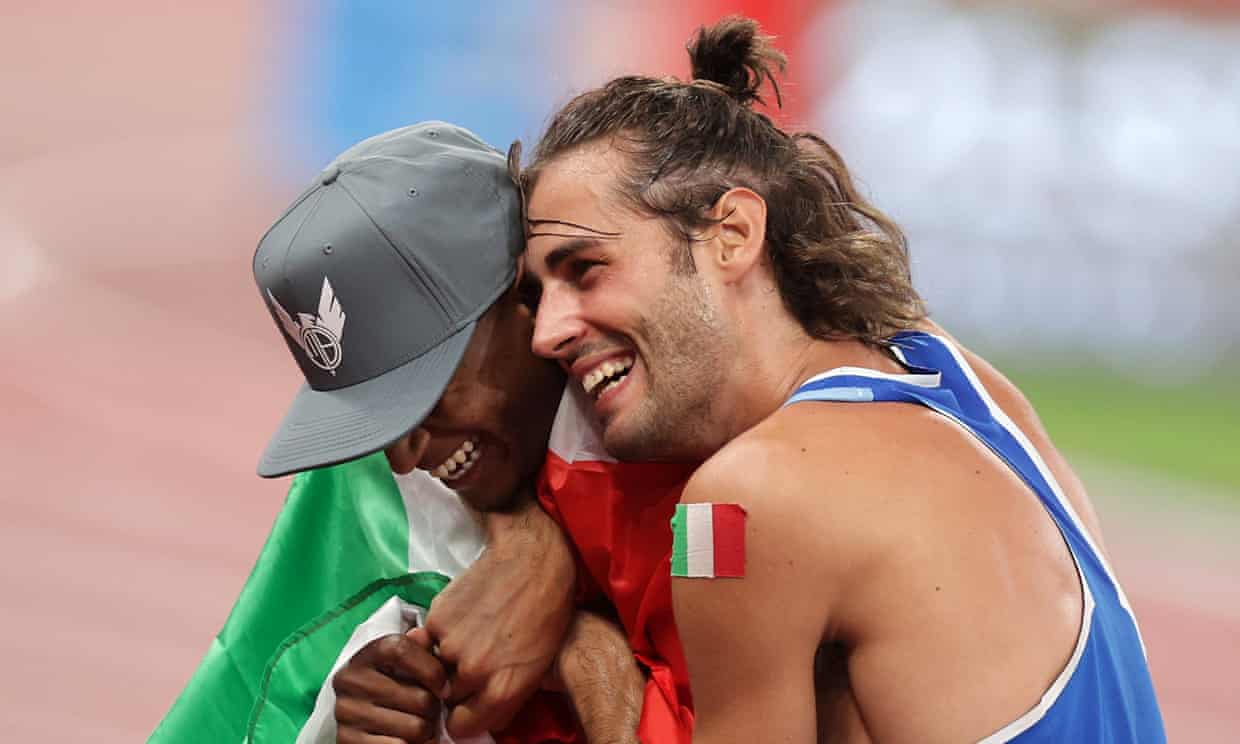 Two athletes who agreed to share gold medals in the Olympics men's high jump competition, in what is likely to be remembered as one of the most heartwarming moments of the Tokyo Games, have been flooded with praise.
Italy's Gianmarco Tamberi and Mutaz Barshim of Qatar were locked in first place after a tough few hours of competing on Sunday. The two athletes, who are also good friends, were then given the option to settle matters with a jump-off.
Barshim had a better idea: how about two golds?
---
Ecco perché Tamberi e Barshim si sono scambiati sul podio le medaglie
La Stampa – Gianmarco Tamberi e Mutaz Essa Barshim hanno regalato agli appassionati di sport momenti indimenticabili, che resteranno nella storia delle Olimpiadi.
Prima la scelta di condividere l'oro del salto in alto, possibilità contemplata dal regolamento dell'atletica ma senza precedenti in una finale olimpica. Poi, al momento della premiazione, lo scambio delle medaglie con il marchigiano che la infila al collo del campione del mondo in carica qatarino e viceversa. I due sono grandi amici, un rapporto cementato anche dalla sofferenza comune: entrambi infatti si sono rotti il tendine d'Achille all'apice della carriera, hanno sofferto e sono tornati in cima al mondo proprio a Tokyo.
---
Olimpiadi Tokyo, il momento migliore? Il doppio oro Tamberi-Barshim. Altro che spareggio
Il Fatto Quotidiano – In questo weekend di chiusura delle Olimpiadi, possiamo iniziare a tirare le somme. Giochi leggendari per noi italiani, con record di medaglie e gli ori spettacolari, tra gli altri, nella staffetta 4×100 e nei mitici 100 metri.
Ma non credo di sbagliarmi se dico che uno dei momenti di maggior fomento sportivo sia stato l'oro ex aequo nel salto in alto, ottenuto dopo un accordo tra l'italiano Gianmarco Tamberi e il qatariota Mutaz Essa Barshim. Abbiamo in mente tutti le immagini della stretta di mano e dell'abbraccio atti a suggellare la parità, quando il tecnico preposto a spiegare ai due atleti le condizioni dello spareggio stava ancora parlando.
---