TheGuardian – Submarine robot takes photos of vessel and cargo of amphorae dating back to second century BC
An ancient Roman vessel dating back to the second century BC has been discovered in the Mediterranean Sea off the coast of Palermo. The ship lies 92 metres (302ft) deep in the ocean, near Isola delle Femmine, and from the first images taken by a submarine robot it was carrying a copious cargo of wine amphorae. "The Mediterranean continually gives us precious elements for the reconstruction of our history linked to maritime trade, the types of boats, the transport carried out,'' said the superintendent of the sea of the Sicilian region, Valeria Li Vigni, who launched the expedition. "Now we will know more about life on board and the relationships between coastal populations.'' The discovery was described by the Sicilian authorities as one of the most important archaeological finds of recent years.
---
Isola delle Femmine, robot ritrova nave romana a 92 metri di profondità. Il mistero delle anfore e il vino di Cesare
LaStampa – Scoperto un relitto del II secolo avanti Cristo nei fondali del Palermitano. La ricognizione della Soprintendenza del Mare della Regione Sicilia a bordo della nave oceanografica Calypso South.
Per due millenni ha riposato in fondo al mare la nave che portava il vino all'imperatore. Un relitto romano del II secolo avanti Cristo, a 92 metri di profondità nelle acque antistanti a Isola delle Femmine, nel Palermitano, è stato individuato durante una ricognizione effettuata dal personale della Soprintendenza del Mare della Regione Siciliana a bordo della nave oceanografica Calypso South dell'Arpa Sicilia. Le prime immagini sono state rilevate grazie a "Rov", un robot guidato da remoto. La nave, attrezzata con strumentazione di alta precisione, ha effettuato ricognizioni subacquee per verificare la presenza di reperti archeologici in alto fondale.
---
Archeologia: recuperate tre anfore nel mare di Filcudi
Ansa – Saranno visibili nella sezione distaccata del museo Bernabò Brea.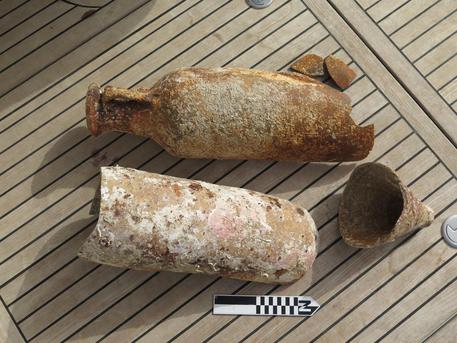 Tre anfore integre, di cui due più piccole di tipologia MSG 2 del III secolo a.C. ed una di maggiori dimensioni di tipologia greco-italica del II secolo a.C. oltre ad alcuni frammenti di un'anfora di provenienza tunisina, sono stati recuperati ieri nel mare antistante l'isola di Filicudi, nelle Eolie. Le anfore sono state rintracciate durante le operazioni di controllo effettuate dalla Soprintendenza del Mare, alla presenza della Soprintendente Valeria Li Vigni, di Pietro Selvaggio del Nucleo subacqueo e dell'ispettore onorario, Salvino Antioco. Il recupero è stato possibile grazie alla collaborazione offerta dall'armatore del catamarano Kaskazi Four e dall'associazione "Attiva Stromboli".
---