BATTITO INFINITO HIS NEW ALBUM OUT ON SEPTEMBER 16th, 2022 AVAILABLE FOR PRE-ORDER TOMORROW ALONG WITH THE RELEASE OF THE FIRST SINGLE AMA
After preview shows in Seville, Agrigento, Verona, Athens and Caesarea BATTITO INFINITO WORLD TOUR BEGINS IN LOS ANGELES, CA ON OCTOBER 30 A MAJESTIC LIVE ADVENTURE FIRST 60 SHOWS ANNOUNCED TODAY VISITING THE MOST EXCITING CITIES IN THE WORLD
Montreal, QC • November 16, 2022 • Bell Centre Tickets go on-sale Thursday, June 23rd at 10 am at evenko.ca or ramazzotti.com
Toronto, ON • November 18, 2022 • Scotiabank Arena Tickets go on-sale Thursday, June 23rd at 10 am at ticketmaster.ca or ramazzotti.com
Panoram Italia exclusive PRE-SALE June 22nd from 10 am to midnight
MONTREAL
TORONTO
Password: EROS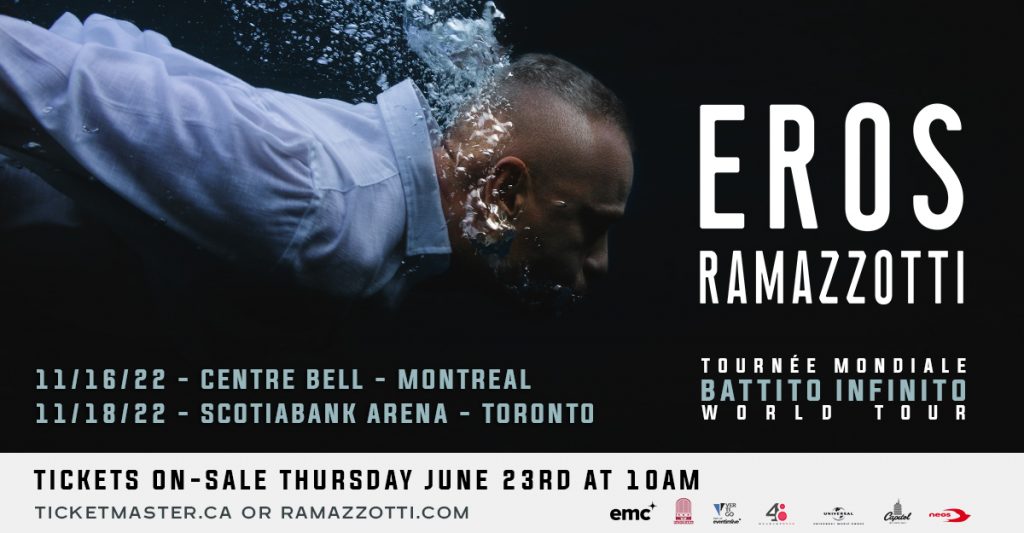 The comeback of EROS RAMAZZOTTI could not be anything else than one in great style and with a worldwide impact. Four years after his last studio album, he is unveiling today, the title and the release date of his new and exciting project, a major step in the collaboration between EROS and VERTIGO/EVENTIM.

BATTITO INFINITO, his new album available on SEPTEMBER 16th, 2022 on Capitol Records Italy under license from Vertigo/Eventim Live International, available for pre-order from tomorrow, at the same time as the release, on all digital platforms and radio. The first single from the album, AMA, is a manifesto of the renewed artistic identity of the record-breaking singer-songwriter, who in over 35 years of his career has sold 70 million records and garnered over 2 billion streams worldwide.

BATTITO INFINITO is an international project that combines the record release with the new world tour. After revealing the dates of the WORLD TOUR PREMIERE, EROS is announcing today the BATTITO INFINITO WORLD TOUR, produced by Radiorama, RAMAZZOTTI's legacy company managed by Gaetano Puglisi, and organized by Vertigo, a company of the CTS Eventim international group. A majestic live adventure which, from September 2022 to May 2023, will bring EROS to some of the most important cities across the world, to celebrate the musical journey of the new record live for the first time together with his legion of fans.

The BATTITO INFINITO WORLD TOUR will stop in Montreal on November 16 at the Bell Centre and in Toronto on November 18 at the Scotiabank Arena. Tickets go on sale Thursday, June 23rd at 10 am at evenko.ca or ramazzotti.com.

"I thought of these concerts to better celebrate the new songs that are about to come out. I got involved, following every single phase of this work, taking care of every detail and nuance and in each of these evenings, there will be a small part of me and my story. I can't wait to hug my fans from all over the world again because I believe this is the best way to face this complex moment and start making music again. Together". – Eros Ramazzotti

Tomorrow, June 10, the first piece of the musical chapter entitled BATTITO INFINITO is arriving: the single AMA, which marks the return of one of the most internationally beloved Italian artists. A message of universal love, a hymn to freedom, an invitation to love as you will, without limits, boundaries or barriers, and to celebrate this feeling in all its forms and facets. EROS RAMAZZOTTI himself was deeply involved with every little detail and every step of the production, for a song that is already a hit, ready to be sung along to.

AMA, his album BATTITO INFINITO, as well as the historic songs that have contributed to EROS's success, will all be featured in the lineup of his WORLD TOUR, which – after the preview shows in Seville, Agrigento, Verona, Athens and Caesarea – will kick off on October 30, 2022 in Los Angeles, with the first leg between North, Central and South America, and then arrive in Europe from February to May 2023 with 10 Italian dates.

Pre-orders for BATTITO INFINITO, available beginning tomorrow, June 10, in all countries worldwide, will entitle fans to access the exclusive 48-hour pre-sale of tickets for the new world tour from 10:00 am local time on Tuesday, June 21. Ticket sales for the BATTITO INFINITO WORLD TOUR will begin to the general public on Thursday, June 23, at 10:00 am CET, on www.ramazzotti.com and www.vertigo.co.it.

Radio Italia is the radio partner for the WORLD TOUR PREMIERE and the BATTITO INFINITO WORLD TOUR.

Neos, the second Italian airline of the Alpitour Group, is the official carrier of the BATTITO INFINITO WORLD TOUR.
EROS RAMAZZOTTI – BATTITO INFINITO WORLD TOUR
Montreal, QC • November 16, 2022 • Bell Centre
Tickets go on-sale Thursday, June 23rd at 10 am
at evenko.ca or ramazzotti.com

Toronto, ON • November 18, 2022 • Scotiabank Arena
Tickets go on-sale Thursday, June 23rd at 10 am
at ticketmaster.ca or ramazzotti.com
 
The Montreal & Toronto engagements are being promoted locally in collaboration 
with Donald K Donald