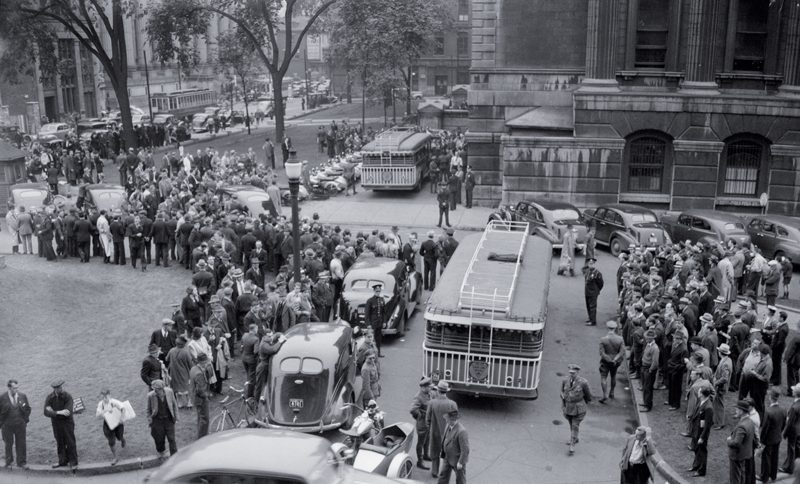 By Tom MacGregor for Legion – In the Piazza Dante across from Ottawa's St. Anthony of Padua Church, where services are held in English and Italian, is a memorial wall with two columns of names: one for the names of local Italian Canadians who died serving Canada during the Second World War; the other of local men who were detained in internment camps.  
In the early days of the war, the federal government of William Lyon Mackenzie King passed the War Measures Act and implemented the Defence of Canada Regulations. The regulations gave the government the authority to detain anyone deemed to be "acting in any manner prejudicial to the public safety or the safety of the State."
In 1940, Italy declared war on Great Britain and France, and thereby their allies, including Canada. This immediately made some people question the trustworthiness of Italians who had recently come to Canada. Indeed, several Italian fascist groups and newspapers (namely Il Bollettino and the Dopolavoro) existed in Canada. And estimates suggest about 3,000 Italian Canadians were members of fascist groups at the time. However, in many cases these were memberships of convenience rather than ideology.
Still, some 31,000 Italian Canadians were labelled enemy aliens. They lost jobs, their property was confiscated and their businesses vandalized. In addition, more than 600 were arrested and sent to internment camps in Petawawa, Ont., Kananaskis, Alta., and Minto, N.B. In the end, however, no Italian Canadian was ever convicted of crimes against the state.
It was a great injustice, like the treatment of Canadians of German and Ukrainian descent during the First World War and of Japanese descent during the Second World War.
"For King, it was always easier to do nothing, to sacrifice a minority to satisfy the demands of the majority," wrote historian Tim Cook in his book Warlords, referring to the refusal to accept Jewish refugees from the war.
Some 31,000 Italian Canadians were labelled enemy aliens. More than 600 were sent to internment camps.
On May 27, 2021, Prime Minister Justin Trudeau rose in the House of Commons to apologize to the Italian Canadian community for the internments.
"During the Second World War, 31,000 Italian Canadians were labelled enemy aliens, and then fingerprinted, scrutinized and forced to report to local registrars once a month," said Trudeau. "Just over 600 men were arrested and sent to internment camps, and four women were detained and sent to jail.