By Jenny Arena for Buonissimo – Saffron is used in a number of preparations across Italy. One of the most recognized recipes that makes use of the golden spice is Risotto Milanese or Risotto alla Milanese. This classic first course hailing from the Northern region of Lombardia, gets its signature yellow hue from saffron. Risotto alla Milanese can be enjoyed on its own or accompanied by a slow simmered ossobuco and pairs best with a Pinot Bianco.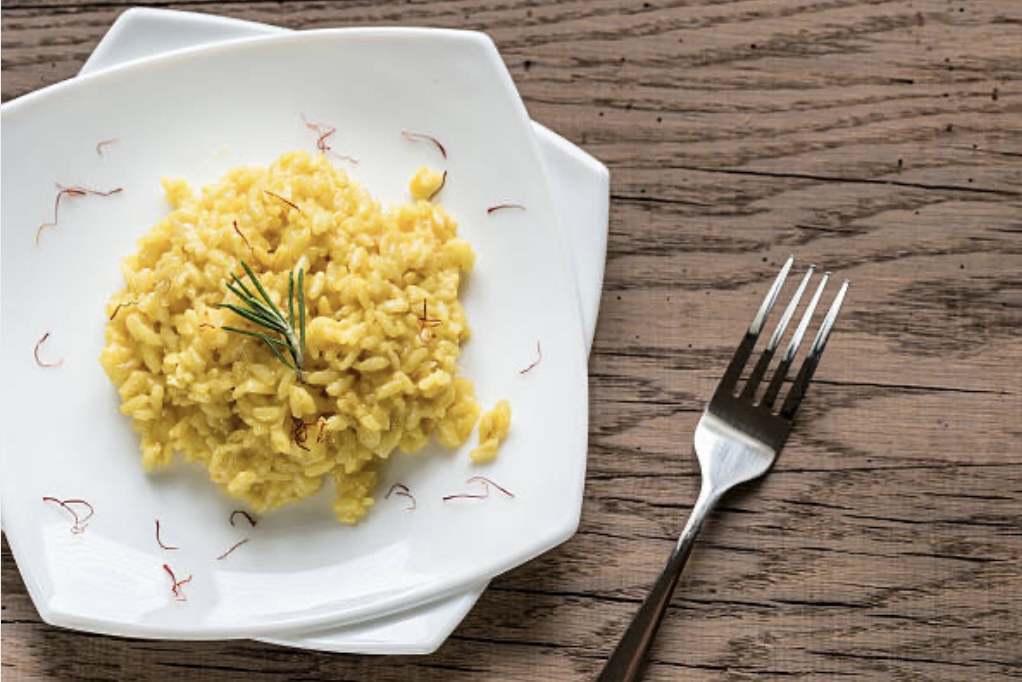 INGREDIENTS
5 1/2 cup chicken or vegetable stock + 2 tablespoon to steep the saffron
2 tablespoon extra virgin olive oil
1 small onion, finely chopped
1 1/2 cup Carnaroli rice
Pinch of saffron threads
1/2 cup dry white wine
1/2 cup freshly grated Parmigiano Reggiano cheese
1 tablespoon unsalted butter
Salt and pepper to taste
INSTRUCTIONS
In a medium saucepan, bring the chicken stock to a simmer; keep warm. In a large saucepan, heat the olive oil. Add the onion, season with salt and pepper, and cook over moderate heat, stirring, until softened, about 5 minutes. Add the rice and cook for 1 minute, stirring to coat thoroughly.
Place the saffron threads in a small bowl, then pour over the 2 tablespoons of the warm stock and allow to steep for a few minutes. Add the wine to the rice and cook, stirring, until the wine is absorbed. Next, add the steeped saffron and its liquid, once again stirring until it has absorbed and coloured the rice. Add 1 cup of the warm stock and cook over moderate heat, stirring constantly, until nearly absorbed. Continue adding the stock 1/2 cup at a time, stirring constantly, until it is nearly absorbed between additions.
The risotto is done when the rice is al dente and suspended in a thick, creamy sauce, about 20 minutes total. Season the risotto with salt and pepper. Stir in the cheese and butter and serve immediately.