Gazzetta dello Sport – Valentino dà l'addio alla MotoGP conquistando il 10° posto finale a Valencia. L'omaggio del Motomondiale e dei piloti: "Hanno provato tante volte a farmi piangere. Contento sia stata una festa".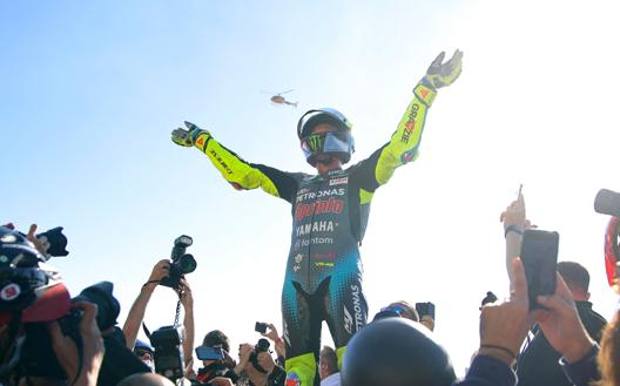 Non poteva esserci addio migliore. È questo il sentimento comune diffuso all'interno del paddock al Ricardo Tormo di Valencia per l'ultima gara in MotoGP di Valentino Rossi, conclusa al 10° posto in una corsa vinta da Francesco Bagnaia protetto da uno dei caschi leggendari del Dottore. Dopo il traguardo, scatta subito la festa per Valentino, omaggiato dalle persone che lo hanno accompagnato durante la sua carriera. "Mi piace aver lasciato così, molto nel mio stile – afferma Rossi che con le sue esultanze ha inventato un'epoca lunga 26 anni – Hanno provato tante volte a farmi piangere però doveva essere una festa. Smettere era solo una scusa per fare casino. Come definirei la mia carriera? Divertente, stupenda e competitiva".
---
In a sea of yellow, a final farewell to Valentino Rossi
CNN – On Sunday, in front of packed Ricardo Torno circuit in Valencia, Spain, the curtain finally fell on the extraordinary career of the most iconic motorcycle racer in history, Valentino Rossi. Riding out on the warm-up lap having qualified in a highly respectable 10th place, the Italian was greeted by a standing ovation from beneath an ocean of yellow flags — his signature color rippling along the 76,226-person crowd in the grandstands under bright blue skies. After a 26 year career, with 432 Grand Prix starts, 115 wins, 235 podiums and 65 poles across all three classes of the world championship, it was a fittingly vibrant setting for one of sport's most charismatic personalities to take his final bow.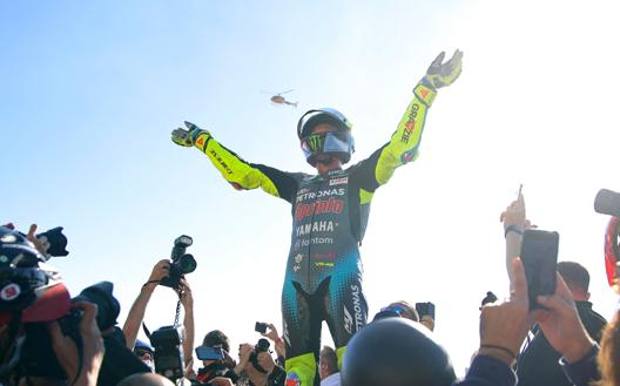 ---
Valentino Rossi dopo l'ultima gara in MotoGP: "Smettere era una scusa per fare casino"
SkySport – Le parole di Rossi dopo aver chiuso la sua ultima gara al 10° posto: "Ho chiuso l'ultimo GP tra i dieci piloti più forti al mondo, questa è la cosa che mi ha fatto godere di più. Ho cercato di vivere questa giornata nel mio stile: doveva essere una festa, smettere era una scusa per fare un po' di casino. Magari smetto anche l'anno prossimo". Rossi si è tuffato tra i suoi cari come una vera rockstar: "Fare stage diving come Jim Morrison a Los Angeles è sempre stato il mio sogno".
---
Valentino Rossi: MotoGP legend retires after 10th-place finish in final race in Valencia
BBC – It is the day every MotoGP fan hoped would never arrive. But all good things must come to an end, and Valentino Rossi has crossed the finish line for the final time. The nine-time world champion brought down the curtain on his remarkable career on two wheels, riding off into the retirement sunset.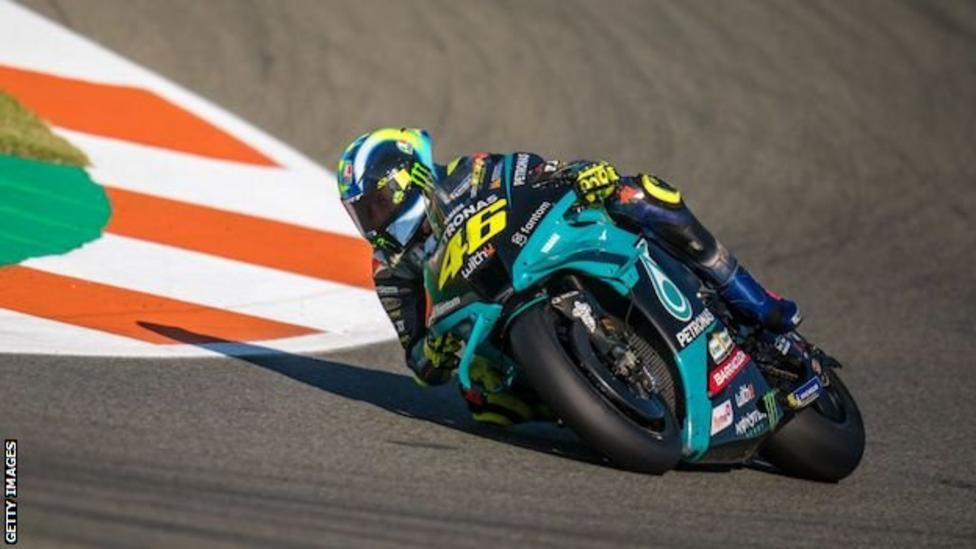 At the end of what has been a difficult season for 'the Doctor', the Italian finished 10th in Valencia as Francesco Bagnaia – a protege of Rossi's and wearing a replica helmet – led a historic first one-two-three for Ducati, with Jorge Martin and Jack Miller second and third.
Victory was Italian Bagnaia's fourth of the season, finishing the campaign in second overall as Frenchman Fabio Quartararo took his maiden world title – but this day was all about one man.
"This race victory is a present to Valentino," said 24-year-old Bagnaia, a product of Rossi's VR46 academy.
---